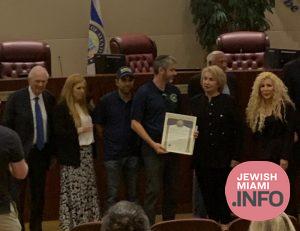 Mayor of Aventura Proclaims April 5th 2022, "Hatzalah South Florida Day"
by JewishMiami.info
City of Aventura Mayor Enid Weissman made a historic announcement Tuesday, proclaiming April 5th 2022 as "Hatzalah South Florida Day" in recognition of the dedicated volunteer First Responders who provide patients with dignity, kindness, compassion and understanding.
The proclamation was announced and presented to Hatzalah of South Florida representatives at a legislative meeting in the City of Aventura.
Attendees heard a story of how Hatzalah of South Florida provided care to a woman in labor when her husband was unable to find another mode of transportation to the hospital.
Also noted was Hatzalah's hand-in-hand work with the local 911 system, bringing expedited emergency care for those in need.