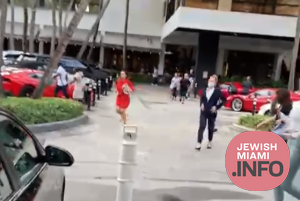 Mentally Disturbed Man Causes Panic in Bal Harbor Shops With Baseball Bat
by JewishMiami.info
A chaotic evacuation from the Bal Harbor Shops Sunday afternoon sparked fears of an active shooter, a rumor which was ultimately found to be false.
According to reports, around 5:00pm Sunday, a mentally unstable man began threatening people with a baseball bat inside the Bal Harbor Shops, sparking what could be termed a minor stampede.
Those outside the shops, unaware of what was going on inside, sparked a Social Media frenzy with videos showing people running from the stores. These social media posts included the assumption that it was an active shooter.
"Despite reports to the contrary, there was no active shooter today at the Bal Harbour Shops.," Mayor Gabriel Groisman wrote on Twitter. "There was an incident, however, involving a man with a bat which BHPD resolved quickly. Thankfully, no one was harmed or injured in anyway."