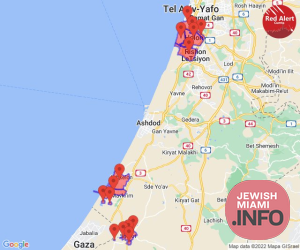 Over 350 Rockets Fired At Israel, Islamic Jihad Command Eliminated
by JewishMiami.info
The tensions that rocked the Gaza envelope Friday continued unabated over Shabbos, with over 350 rockets having been fired at Israel. Here is an update of highlights from the last 24 hours.
– Egyptian has allegedly sent a delegation to Israel in order to broker a ceasefire in Gaza.
– Latest IDF data, as of 18:30, puts number of rockets launched by PIJ at 350.
94 fell short in Gaza.
29 fell in the sea
162 interceptions, with 95% Iron Dome success rate for rockets headed for populated areas.
– The United States and the United Kingdom have publish official statements supporting Israel in its war against the Islamic Jihad.
– The head of the military's Operations Directorate, Maj. Gen. Oded Basiuk says according to "all available information," Israel has killed the entire PIJ military wing's top brass.
– The Hamas-run health ministry in the Gaza Strip says 24 people have been killed and 203 others wounded since Israel began its military operation in the Gaza Strip. Israel says this toll includes the failed rocket launch in Jabaliya, that killed at least 7.