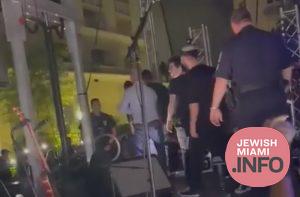 (UPDATED) Police Pull The Plug Mid Event At Ishai Ribo Concert In Florida
by JewishMiami.info
Midway through a Ishai Ribo concert in Florida, police showed up and "pulled the plug" according to social media posts from the event.
According to those at the event, the sudden end came without warning with officers clearing the stage and sending everyone on their way.
Unconfirmed reports say that the issue surrounded permitting, which had been granted through only 9:45pm. With the concert only beginning at 9:00pm, it obviously continued far after, causing many to call in with complaints.
Update: According to reports, the concert had started late due to a preconcert being held at the home of a local person.