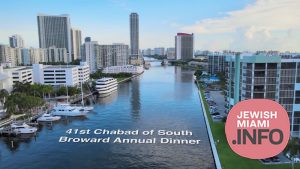 Promo Video For The 41st Chabad of South Broward Annual Dinner Released
Excitement is in the air as record attendance is anticipated for the 41st Congregation Levi Yitzchok-Lubavitch/Chabad of South Broward Annual Gala Dinner on the Mega Yacht The Grand Princess.
Taking place on Sunday September 18th , 2022, it will be Master of Ceremonies will be the very entertaining Shmuel Tennenhaus of The Shmuel Tennenhaus Podcast.
SEATING IS LIMITED!
"Fundraising this year will go towards PHASE 1 of the $18,000,000 Grand Expansion Project, which is so badly needed as we, once again, thanks to the Rebbe's blessing, outgrow our present facilities," said Rabbi Rafael Tenenhaus.
A huge influx of families to Hallandale and surrounding neighborhoods, has made it necessary to expand the shul grounds to include more pre-school, Hebrew School and adult education classrooms, CTeen and Friendship Circle Youth Center, parking garage, a Women's Balcony, proper kiddush/social hall and much more!
Boarding the boat is 6pm. Boat sets sail at 7pm.
To reserve your dinner seats now please click on the link
https://www.chabadsouthbroward.com/templates/articlecco_cdo/aid/5200141/jewish/41st-Annual-Gala-Dinner-Reservations.htm
Fort Lauderdale Yacht Charters by Sir Winston Luxury
Address: 3670 South Ocean Dr
Hollywood, FL 33019
Diplomat Landing