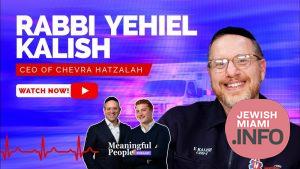 Rabbi Yehiel Kalish – The CEO of the Chevra Hatzalah
Yehiel Kalish is a former Illinois House of Representatives member and currently serves as the CEO of Chevra Hatzalah, the largest volunteer ambulance service in the United States. He sat down for an interview with the Meaningful People Podcast.
Kalish is the only rabbi to serve in the Illinois state legislature. He is a chazzan at Shaarei Tzedek Mishkan Yair in Chicago, and the brother of Dafna Michaelson Jenet, a member of the Colorado House of Representatives. A member of Agudas Yisroel of America's board of trustees, he established an Aguda office in the Chicago area and served as the AIOI Midwest Regional Director before ultimately becoming the organization's vice president for development and state relations. He was also the CEO of S4 Group, a lobbying and business consulting firm.
Yechiel's ongoing involvement in communal affairs has earned him the admiration of the broader Jewish community.