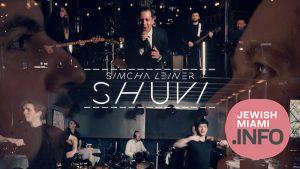 Simcha Leiner Releases Music Video "Shuvi"
Enjoy the first Music Video to be released off Simcha Leiner's latest album HOME! Shot on location at the beautiful Wall Street Grill in NYC. Shuvi follows the story of an all too familiar staffing shortage in Simcha Leiners band! Luckily a chef with a dream comes to the rescue and completes the band.
A Special Thank You to Sholom Vegh, Steven Traube and the amazing team at Wall Street Grill!
Video Produced: Motty Berkowitz Original Song Produced: Shua Sorscher
Cast – Shua Sorscher, Chef Joseph Paulino, Script written by – Brandon Demchak, Gaffer: David Michael Alexander
Best Boy Electric: Eli Kravetz Key Grip: Romy Christmas Dance Director/Acting Waiter – Vivake Khamsingsavath Coloring by Motty Berkowitz & Rafi Barides PR Israel: Nati Badash natibadashpr@gmail.com | 052-5991137