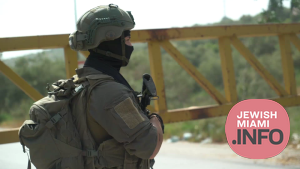 Terror Attack in Samaria: Vyacheslav Golev, Security Guard, Shot Dead at Entrance to Ariel
israelnationalnews and JewishMiami.info
A security guard in his 20's was murdered in a shooting attack at the entrance to the city of Ariel in Samaria on Friday evening. The attackers were later arrested.
The security guard has been named as Vyacheslav (Vladi) Golev, a resident of Beit Shemesh and a former student at Ariel University.
An initial investigation of the attack determined that a vehicle with an Israeli license plate arrived at the post of the security guard of Ariel. Two terrorists then got out of the vehicle, opened fire at the security guard from close range and killed him, before making a U-turn and fleeing the scene.
After an extensive manhunt, the tweo terrorists were arrested, and the guns used in the attack seized.