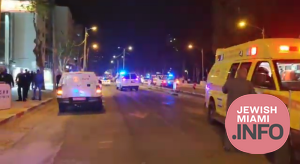 TERROR ATTACK: Two Police Officers Killed, Four Wounded in Hadera
Two police officers were killed and four people were wounded in a terrorist shooting attack in the coastal city of Hadera Sunday evening.
According to initial reports, six people were wounded, including two police officers, when two terrorists carrying automatic weapons opened fire on passersby on Herbert Samuel Street in Hadera.
The ZAKA emergency response organization said that three people were treated at the scene, including one in serious condition and two in moderate condition.
Read More at israelnationalnews