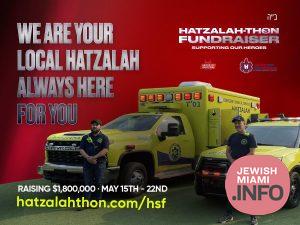 The HatzalahTh3n Is Live! Hatzalah of South Florida Needs You
Whether you live here, visit seasonally or vacation a few days a year, you can count on Hatzalah South Florida to always be here for you.
Donate Today to Hatzalah of South Florida!
Help Hatzalah of South Florida raise $1,800,000 to fund lifesaving equipment, training, and infrastructure as it prepares to continue saving lives.
The organization's 120+ volunteer first responders are committed to helping save lives in our South Florida communities every day. We answer your emergency calls 24 hours a day, 7 days a week, 365 days a year, to help you and your family.
Since January 1st 2022, HSF volunteers have responded to over 1,400 emergency calls and transported close to 600 patients to local hospitals.
Today we turn to you, our loyal supporters, to answer our call and support us during this HatzalahThon.
Donate Today to Hatzalah of South Florida!