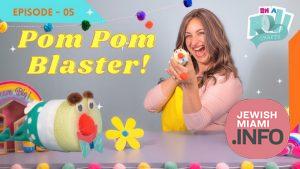 Tisha B'Av Pom Pom Blaster With On A Roll Crafts
This Tisha B'av let your kids entertain themselves! Grab those extra pool noodles and join the Duct Tape lady @OnARollCrafts as she gives step by step instructions that help Build Confidence, Teach Problem Solving, Encourage "Out of the Box" Thinking, and more!
A craft made for all ages! Literally 0-99! For kids and kids at heart!