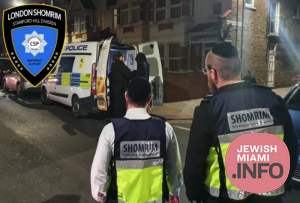 Two Frum Men Viciously Beaten In Stamford Hill In Unprovoked Attack
by JewishMiami.info
Two Jewish men closing up a store in the Stamford Hill section of London were brutally set upon by without provocation.
The attack took place around 9:50pm on Cadoxton Avenue N15, and was captured on surveillance camera.
The attacker could be seen approaching the two men as they exit a storefront directly in front of the camera. The attacker then appears to go around the pair, catching their attention.
Suddenly, the attacker doubles back, throwing something at the pair before swinging wildly, punching both men.
The attack continued as the two men attempted to run away, with the attacker following after the pair and continuing to rain down blows.
Stamford Hill Shomrim was called, and the attacker located in a nearby home, where he was taken into custody by the police.
Both Jewish men were treated for their injuries.
ript async="" src="//www.instagram.com/embed.js"></script></code></pre>