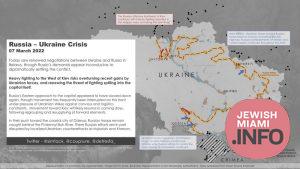 (UPDATED 10:09PM) Sanctions Continue To Pour On As Russian Offensive Continues to Crawl
by JewishMiami.info
Russian President Putin announced the invasion of Ukraine late Wednesday night, and immediately followed it with action. The following is a summary of incidents, numbers and breaking news on the war.
This article will be updated throughout the day as information becomes available.
10:09pm: Updates:
Fitch downgrades #Russian credit rating to imminent default. "The 'C' rating reflects Fitch's view that a sovereign default is imminent," the credit agency said in a statement.
Durex announced that it will not sell products to the Russian market.
10:06pm: Analysis from Sen. Marco Rubio: At some point Putin will start targeting the supply convoys bringing weapons & aid once they cross over into Ukraine. This could bring Russia's missiles & aircraft in very close proximity to deployed NATO forces in Poland.
10:00pm: Putin knew we was going to get sanctioned after he invaded. He was planning on using Russia's reserves as a buffer. But according to State Dept, virtually all of their foreign currency reserves are frozen & inaccessible to them.
4:10pm: Amazon has stopped accepting new cloud service customers in Russia and Belarus.
4:09pm: Coca-Cola follows McDonald's, Starbucks in suspending business in Russia.
4:09pm: Starbucks suspends all operations in Russia.
3:49pm: Poland has announced that it plans to hand over all of its Mikoyan MiG-29 jet fighters to Ukraine via the United States.
3:48pm: McDonald's will temporarily close all its 850 restaurants in Russia.
1:58pm:
10:35am: Reports indicate that a staggering 40K foreign fighters have poured in to fight with #Ukraine against Russia.
10:34am:
10:33am: Japanese payment system JCB suspends operations in Russia. Cards already issued in Russia will not be available abroad from March 14.
10:32am: Russian Losses according to Ukrainian armed forces:
10:31am: Japan has declared today that the southern Kurils currently occupied by Russia is Japanese sovereign territory. creating another possible altercation in this war.
10:30am: General Update:
Russian advances have stalled across the northern front as logistical nightmares plague the Russian army.
Ukrainian soldiers appear on the offensive in certain areas of the country as they fight regain control of strategic airfields.
As per an analysis by Sen. Marco Rubio, Putin now has a substantial majority of his total conventional military forces deployed inside of Ukraine. If enough of these deployed assets are captured, destroyed or stuck there, Russia will be left vulnerable along all its other borders for a long time.
Ukrainian forces have killed a Russian general near the besieged city of Kharkiv, the second Russian senior commander to die in the invasion.
At least nine people, including two children, have died in an air strike on the Ukrainian city of Sumy.
The Kremlin has announced its demands for ending the war in Ukraine: 1. Ukraine must change its constitution to guarantee it won't join any "blocs", i.e. NATO + EU. 2. Must recognize Crimea as part of Russia and 3. It must recognize the eastern separatist regions as independent.
Two million people have fled Ukraine since Russia's invasion began.
Ukrainian Defense Minister Oleksiy Reznikov revealed on Tuesday that at least 400 civilian deaths have been recorded and 800 wounded in Ukraine since Russian forces launched their assault
Pentagon spokesman John Kirby confirmed on Monday that Russia is recruiting Syrians and other foreign fighters for Urban combat in Ukraine.
Reports indicate that the US will soon ban all imports of oil from Russia, potentially causing the cost of gas to rise again.
For earlier updates: Click Here