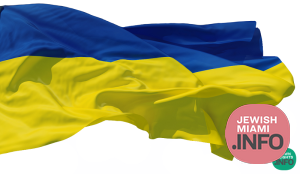 UPDATED 11:11pm: War Begins In Ukraine As Putin Orders Operation, Shelling Begins in Ukraine
War has begun in Ukraine as Russian President Putin announced operation to "demilitarize" the country.
JewishMiami.info will provide updates on the operation as information becomes available.
11:11pm: According to Marco Rubio: Long range missile launches from #Russia are now underway. They are headed towards various pre-selected military sites throughout #Ukraine
10:58pm: NATO responds to Russia Invasion:
I strongly condemn Russia's reckless and unprovoked attack on Ukraine, which puts at risk countless civilian lives. Once again, despite our repeated warnings and tireless efforts to engage in diplomacy, Russia has chosen the path of aggression against a sovereign and independent country.
This is a grave breach of international law, and a serious threat to Euro-Atlantic security. I call on Russia to cease its military action immediately and respect Ukraine's sovereignty and territorial integrity. NATO Allies will meet to address the consequences of Russia's aggressive actions. We stand with the people of Ukraine at this terrible time. NATO will do all it takes to protect and defend all Allies.
10:44pm: According to Marco Rubio, Russia is now working on:
-establishing air superiority via targeted surgical strikes
-a pincer movement to trap Ukrainian forces in the east & cut them off from #Kyiv
-finally attempt to decapitate Ukrainian govt by targeting govt buildings,leaders & command & control systems
-Russia's airborne forces are attempting to take control of the airport in #Kyiv to they can fly in forces to occupy the capitol city
-An amphibious assault on the key port city of #Mariupol is now underway
-Ground forces now moving in from Belarus,Crimea & from #Russia
10:31pm: US President Biden has released the following statement on the Ukraine invasion:
The prayers of the entire world are with the people of Ukraine tonight as they suffer an unprovoked and unjustified attack by Russian military forces. President Putin has chosen a premeditated war that will bring a catastrophic loss of life and human suffering. Russia alone is responsible for the death and destruction this attack will bring, and the United States and its Allies and partners will respond in a united and decisive way. The world will hold Russia accountable.
I will be monitoring the situation from the White House this evening and will continue to get regular updates from my national security team. Tomorrow, I will meet with my G7 counterparts in the morning and then speak to the American people to announce the further consequences the United States and our Allies and partners will impose on Russia for this needless act of aggression against Ukraine and global peace and security. We will also coordinate with our NATO Allies to ensure a strong, united response that deters any aggression against the Alliance. Tonight, Jill and I are praying for the brave and proud people of Ukraine.
10:28pm: Reports of Explosions in Kiev.
10:21pm: Ukrainian air defenses engaging targets in Ukrainian airspace.
10:00pm: Breaking: massive explosions just now in Kramatorsk. At least four. Very big.
10:00pm: Putin just spoke live on TV: Announced 'special operation' in Donbass, eastern Ukraine. Calls on Ukrainian service members to 'lay down their arms and go home'. Russia does not plan to "occupy" Ukraine. Russia's response to outside interference will be terrible:
9:50pm: The airspace above Ukraine is cleared of all civilian aircraft.