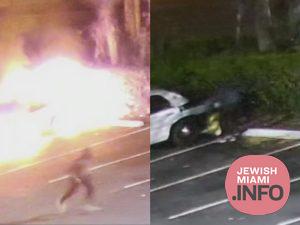 WATCH: Surveillance Video Captures Arson Of Police Car at Chabad of Inverrary
by JewishMiami.info
Surveillance footage from the torching of a Lauderhill Police Cruiser parked outside the Chabad of Inverrary has been acquired by JewishMiami.info, and it shows the incident in detail.
The cameras at Chabad of Inveraray, run by Rabbi Aron and Faigi Lieberman, show as the man approached the car with what appears to be a can of fuel before dousing is and lighting it on fire.
The man, who was allegedly arrested by the police in the morning, also appeared to have videoed the incident, which if he posted to social media, would likely have been what got him caught.
The reason behind targeting the police car has not been released, but it appears unlikely that the Chabad House was the target on the incident.