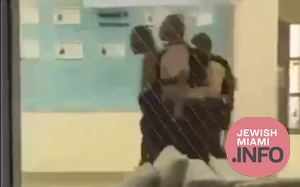 Woman Killed in Domestic Dispute at the Aventura JCC
by JewishMiami.info
A dreadful series of events unfolded at the Aventura JCC at 23rd Court and Northeast 187th Street leading to the murder of a woman at the JCC Pool.
Reports from both the Miami-Dade Police and the JCC claim that the woman had come to the JCC with her daughters for swimming lessons when a man entered the building and got into an altercation with her.
According to reports, the man was this woman's partner, and at the end of the altercation, he shot and killed her. The man then fled.
An active shooter alert was sent out and the police set up a perimeter. The man ultimately gave himself up to the authorities.
According to the police, there is no threat to the Jewish community.
Chesed Shel Emes's services were not needed in this case.