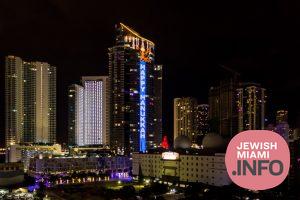 World's Tallest Digital Hanukkah Menorah To Light-Up South Florida Skyline
In celebration of Hanukkah, The World's Tallest Electronic Menorah, The World's Tallest Spinning Digital Dreidels and The World's Largest L.E.D. Array of Six-Pointed Jewish Stars are lighting-up South Florida's skyline, at the 60-story Paramount Miami Worldcenter, in downtown Miami.
"The world's tallest electronic menorah is a shining beacon of celebration," says Daniel Kodsi (Cod-See), CEO of the Royal Palm Companies real estate firm – developer of the Paramount Miami Worldcenter. "The menorah signifies the triumph of light over darkness and is a symbol of truth and justice and the belief in a higher being. It is also a gleaming signal of solidarity with all oppressed people around the world."
The 700-foot-tall Paramount Miami Worldcenter is the "Magic City's" soaring signature skyscraper, which features the world's most technologically-advanced L.E.D. animation system.
Across Paramount's 700-foot-high by 300-foot-wide rooftop crown will be the lustrous image of a mammoth menorah and eight flickering candles. Through the superstructure's 60-story center column will bw the phrase, "Happy Hanukkah," with the tower then transitioning into a mosaic of digital dreidels streaking across the sky. The building will then morph into a brilliant burst of six-pointed "Stars of David," spanning Paramount Miami Worldcenter, which is as tall as two-and-half football fields, if stacked vertically.
South Florida ranks third in the nation for the largest Jewish population, estimated at 550,000 people. New York and Los Angeles rank numbers one and two, respectively.
During the eight-nights of the Jewish Festival of Lights, the Paramount tower illuminates every morning before dawn and from sunset through midnight.
Tower Lighting Schedule
December 18, 2022 – December 20, 2022
5:00 a.m. – 7:00 a.m. | 5:30 p.m. – Midnight
5-Minute Durations Top & Bottom of Every Hour
December 22, 2022 – December 26, 2022
2-Minute Durations Bottom of Every Hours
Location
Paramount Miami Worldcenter | 851 NE First Avenue | Miami, Florida | 33132