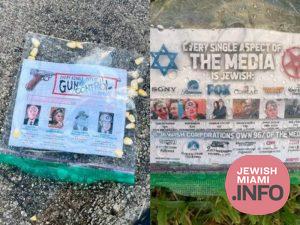 Flyers distributed by the Goyim Defense League in June of 2022.
Boca Raton Targeted In Anti-Semitic Distribution, Again
by JewishMiami.info
A residential area of Boca Raton became the latest area of South Florida to be targeted with a flyer distribution of anti-Semitic tropes, again.
The residents found the distinctive flyers covered with anti-Semitic conspiracy theories, packaged in clear sandwich bags and weighed down with pellets, thrown into the neighborhood driveways.
According to a local news outlet, residents told them that hey witnessed a pickup truck driving by, throwing the offensive material from the window.
In June of 2022, similar flyers in the same packaging were also found distributed in Boca Raton.
At the time, the Rabbi of the Boca Raton Synagogue, Rabbi Efrem Goldberg, said "Antisemitism came to our backyard last night as these were left in driveways around our neighborhood. Never think this growing danger won't find you. The Goyim Defense League who produced these are others must be stopped and held accountable."
The methods of this distribution mimics others seen by the Goyim Defense League, a small network of virulently antisemitic provocateurs who promote antisemitic videos online. A nearly identical incident also attributed to the same organization, targeted Miami Beach in January of this year, spreading vile claims that COVID was orchestrated by Jews.